Professional Support for your IPAD-OS Products.
IPAD-OS Technical Support Overview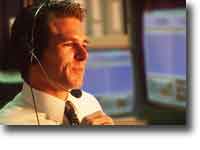 The IPAD Owners Association, Inc. offers trained, experienced, professional, full time technical support for products using IPAD-OS. This high level of support is only available through an annual support policy or on a pay-per-call basis.
Our support staff are all native English speakers located in the USA!
Voice telephone support is available from 8am to 8pm Eastern Time (5am to 5pm Pacific Time) Monday through Friday.
After hours, weekend and U.S. national holiday telephone support may also be available with a 2 hour call-back that includes an additional fee per event even for annual support policy holders. Prearranged after hours technical support calls may optionally be exempted from extra fees.
Annual support policies include one full year of technical support (voice and email) and free access to all IPAD-OS software updates and upgrades released while the policy is in effect. This guarantees you have both the most current IPAD-OS version, the latest features and the best IPAD-OS voice support available.
The prerequisite to purchase an IPAD-OS technical support policy is that the policy holder must have the current release version of IPAD-OS. If you do not already have the latest version of IPAD-OS, you must first purchase an upgrade because we do not have the extra resources to support older versions of the software. Pay-per-call support is not required to purchase an upgrade before receiving technical support, but our technical support staff may suggest solutions which use features only available in newer versions of the software.
After posting a very complicated problem about our outdated version IPAD-OS at 11pm, I received support from 4 different people in as little as 5 minutes. With this help we had the entire problem solved within 40 minutes. This is what separates the IOA-IPAD from all others. The people, the level of dedication and the first class support that goes on around the clock makes all the difference.
A support policy is a great deal for you. Buying a support policy gives you the resources to provide faster and less expensive service to your customers, saving them both money and time.
---
Copyright © 2000-2014 IPAD Owners Association, Inc. All rights reserved.
IPAD is a trademark of eSoft, Inc. used under license by IPAD Owners Association, Inc.
iPad is a trademark of Apple, Inc. for an unrelated consumer tablet device.