IPAD-OS Technical Guide
It started at IPADCON.
Thanks to candid comments from attendees of the IPADCON, the IPAD Owners Association has identified and targeted three distinct levels of documentation needed by IPAD-OS owners and operators. The work to create the first of this new documentation started while the IPADCON was still in progress.
The complete (updated to V9.0) IPAD-OS documentation is here!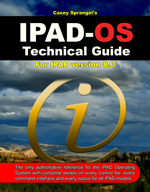 This completely updated book is based on user input and lots of dedicated work by Mr. Casey Sprangel, the latest 9.0 edition of this book is now available. It is a very detailed technical guide to everything that controls the IPAD-OS called the IPAD-OS Technical Guide.
Who needs this book?
This is not an end user manual.
The IPAD-OS Technical Guide is written for people that want to know all of the details about how every control file and command line interface works inside the IPAD-OS. This book is very well suited to be used as a reference for anyone supporting IPAD-OS customers, anyone writing IPAD-OS documentation, or adventurous people that must know everything about their IPAD-OS. The IPAD-OS Technical Guide has it all.
Authoritative, current and comprehensive.
This is the only resource anywhere that covers every IPAD-OS command in every control file and command line user interface including previously secret, undocumented and unknown commands. The IPAD-OS Technical Guide is the most comprehensive and complete documentation of everything for all IPAD-OS models and versions including information about the latest 9.0 version.
Many of the commands and options covered in this book were previously undocumented and largely unknown, even to some of the original software engineers working on the IPAD-OS. This required dedicated research, often directly into the IPAD-OS source code, to locate the hidden commands and explain how they work. This means there are no longer any undocumented or secret IPAD-OS commands or functions.
The IPAD-OS Technical Guide even includes details about the latest version of the IPAD-OS Boot Loader including useful internal and external commands and how to use them to automate functions and better use your IPAD-OS.
Committed to keeping current.
The IPAD-OS Technical Guide is a live project that grows with the IPAD-OS itself. Mr. Sprangel has dedicated himself to keeping this book current with all the new features and functions of every major IPAD-OS version. A new and authoritative printing of the book will be available with each new IPAD-OS release. No more fumbling through stacks of addendum papers or outdated and incomplete product manuals.
This book is the one-stop technical resource for everything in your current IPAD-OS.
In addition to covering the features of new IPAD-OS versions, continual refinement effort is also invested in expanding and clarifying explanations for the existing IPAD-OS commands with each new printing. The goal is to make each printing more useful and easy to understand than the previous. A simple addendum can't cover this level of expansion.
If you are serious about knowing your IPAD-OS and want the most authoritative and complete technical documentation available, order your copy of the IPAD-OS Technical Guide today.